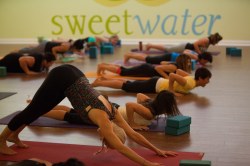 Alright, Longwood, Florida. Are you ready to get strong--and feel amazing doing it? At Sweetwater Yoga and Fitness, we can help! An old proverb said that "the best time to plant a tree was twenty years ago. The second best time to plant a tree is today." So, plant a seed tonight by registering for one of tomorrow's classes and start growing! Want to hear what we have in store for you? Check out Wednesdays schedule:


Yoga and Fitness Classes:
615am Yoga w Shannon
830am Yoga w Mary
10am Warm Yoga w Mary
12pm Yoga w Shannon
4pm Fusion Fit Flow w Richie
6pm Focus&Flow Beginners Yoga w Shannon
730pm Warm Yoga w Shannon

**COMING SOON**
Need something a little more relaxed? Starting March 5th, we will be offering Gentle Yoga with Julie at 730pm.

We are also serving amazing fresh Organic Cold Pressed Juices from Wheatberry Cafe. They are available in the boutique everyday, so stop in and grab a nourishing beverage on your way out of class!