Michelle Roy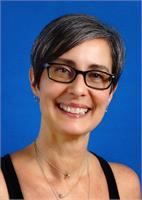 Certified Core Integrated Alignment Yoga Instructor
Michelle's journey with Yoga began in the 1990's with a Hatha yoga class and soon after years of Kundalini, Bikram and power yoga. She now enjoys the more subtle aspects of yoga and self-discovery. "Yoga is "Me" time, when I can open up, journey deep and find peace. I am passionate about taking care of myself -- mind, body and soul, and I've always dreamed of helping others find peace in their hearts and minds. Finding Sweetwater Yoga & Fitness and completing my certification as a Core Integrated Yoga teacher under Shannon Kidwell's guidance was the best decision I've ever made," says Michelle. "I am fascinated by how breathing deeply while moving the body helps calm the nervous system and slowly brings you to deeper awareness." Michelle adds,"As time goes by, you don't even notice that subtle shifts are starting to happen. Then one day it dawns on you – I've changed. My mind and heart are more peaceful. My body feels free and strong. I hope to bring that feeling to all of my students."
Michelle's other loves include her beautiful family, laughter, art, moving stories, great music, great conversation and custom blending essential oil perfumes. She is currently studying for an aromatherapy certification with the Atlantic Institute of Aromatherapy in Tampa, Florida. "I am over the moon that I'm fulfilling my dreams and sharing my heart through Yoga. Come flow with me!" says Michelle.
Michelle Roy instructs the following:
This Gentle Flow yoga practice is accessible to all levels and is ideal for anyone looking for a little revitalization. The sequences focuses on poses that will help you unwind such as hip openers, gentle lunges and twists.