Amber Williams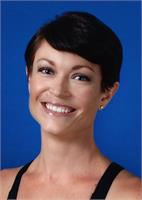 Certified Core Integrated Alignment Yoga Instructor & Senior Student/Teacher Mentor & Pilates Reformer Specialist
Amber is a woman that has a diverse subset of passions; when she's not practicing yoga she's a mother of two beautiful girls, a wife and a registered dental hygienist. The glue holding it together is centered in her faith and her deep introspective awareness she's made through yoga. Her journey to find this practice was quite beautiful and all started when she moved to Orlando in 2008 where she met her future husband, Kyle. They soon were married and started a family. The American dream was coming true but after the birth of her first child she was searching for a renewed physical and emotional connection. She did something pretty cool: she went to a yoga class - by herself. This was the beginning of a new chapter in Amber's life and carried over into her eventual yoga home at Sweetwater. Yoga offers many gifts, one of which brings about a new realization, helping her to recognize energetic parts of herself that she didn't know were there. Yoga gives us all the opportunity to explore our authenticity and cultivate mindfulness and intuition. This practice continues to inspire and nurture the desires of Ambers heart and she is honored and excited to share her personal journey and enthusiasm with the Sweetwater/Parkside communities.
Amber Williams instructs the following:
This 50 minutes class will stretch your hips, work your core, and relieve tension in your shoulders. This class geared specifically toward the mature body, those with physical limitations, and/or those looking to improve their overall sense of well-being. *Note: This practice is done with the support of the chair, either seated or standing. There is no getting up and down off the floor.*




Enjoy a contemporary version of Core Integrated Alignment Yoga sequencing. Instruction is innovative and fun with a therapeutic influence and deeply connected intention. Lengthen and strengthen the body; stimulate and clarify your mind; unite and enliven your spirit.




Warm Yoga Flow is designed to utilize the warmth of heating elements in the room in addition to the heat created by the breath to achieve deep pliability of the musculature system to create space and detoxify the body of impurities by squeezing and soaking the organs and generating an abundance of sweat.




Warm Yin Yoga is a slow-paced style of yoga with postures or asanas that are held for longer periods of time, from 2 to 5 minutes softening a bit more into the pose as a result of additional warmth of heating elements. A Yin Practice benefits the physical body by freeing up the tight connective tissue capsules that form around the muscles and joints. All levels welcome. Class is 60+ minutes.